Commentary: Mayor responds to critics with 13 ways Charleston is addressing flooding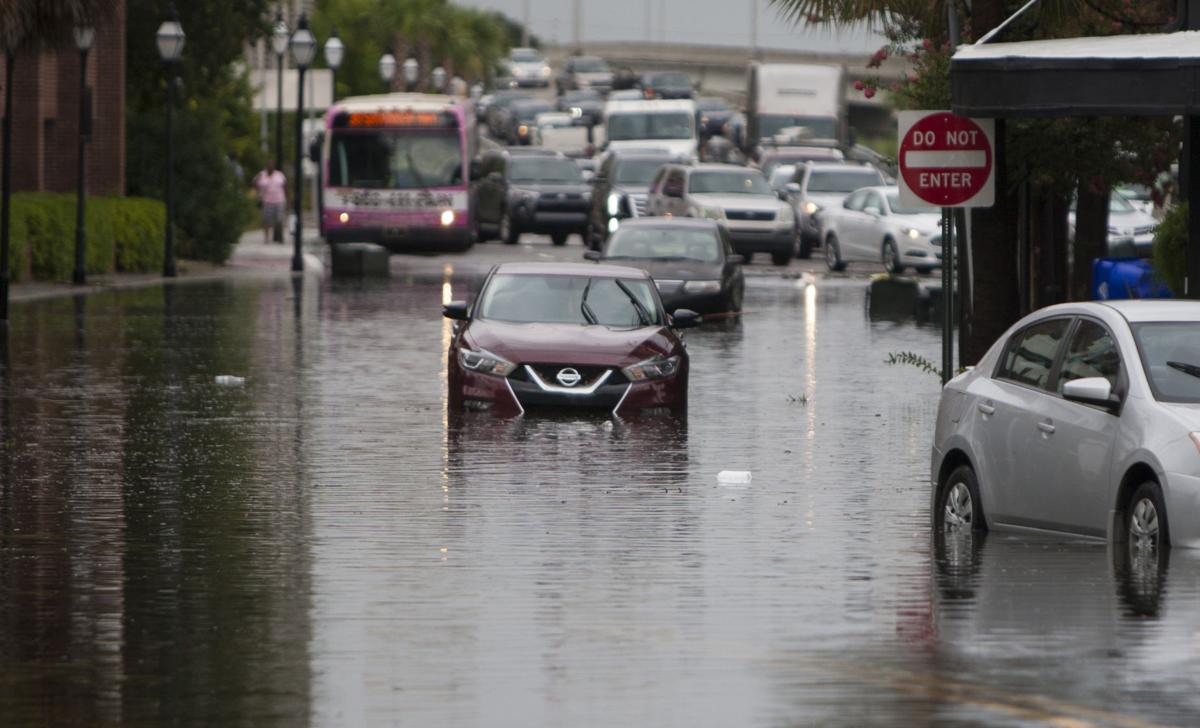 Nero may have fiddled while Rome burned, but I assure Mr. Hugh Lane Jr. and our citizens that the City of Charleston is not wasting its time in pursuit of funding sources to address our critical drainage needs. In his recent op-ed, Mr. Lane states that "The city of Charleston is promoting the idea that taking one-third of the accommodations and hospitality tax can address the problem."
But the city is doing no such thing. In fact, it will take a combination of government funding at all levels and even private and charitable sources to fulfill the needs of Charleston's flooding and sea level rise projects and strategies. To review the funding sources that we already rely upon and are developing:
Drainage Fund/Stormwater Budget — Made up of a variety of funding sources including but not limited to a dedicated 4 mills of property tax, a stormwater utility fee of $8 per equivalent residential unit that generates approximately $8.9 million per year, $500,000 in franchise fees and a dedicated amount of business license that is transferred into the drainage fund each year. These funding sources allow the city to undertake a variety of drainage related maintenance and infrastructure projects each year and enabled the city to issue a $51.8 million Stormwater Revenue Bond in 2012 — funds that have been used for large drainage projects such as in West Ashley's Forest Acres.
General Fund — The city's general fund helps support tie-ins to drainage projects such as the upcoming Market Street streetscape, which will direct surface water to the Market Street tunnel system.
Tax Increment Finance Funds — The city has a number of TIF districts which produce funds that must be spent on projects within that district. Funds have been used from the Gateway TIF for the Fishburne drainage tunnel project and soon will be expended on the initial phase of the Calhoun West tunnel. The Cooper River Bridge TIF is supporting work at the corner of King and Huger streets. Other TIFs will contribute to projects as appropriate to each district.
Charleston County — The city and county are jointly funding a number of engineering studies in West Ashley and on James Island where our jurisdictions overlap. These studies will soon yield specific projects that we will also seek to jointly fund. The county, of course, funds other drainage projects throughout the unincorporated parts of Charleston County.
State Infrastructure Bank — The SIB has contributed $88 million to the Septima Clark Parkway/Fishburne drainage tunnel. This funding source is primarily for transportation related projects and as such, the city is applying for funding for the Low Battery Wall which supports a state road, Murray Boulevard. In a similar fashion, the county's half-cent sales tax for transportation allows for drainage improvements associated with transportation improvements, and the city is preparing to request this and other appropriate projects.
Accommodations Tax (state and local)/Hospitality Tax — Currently, these three funding sources are restricted by state law specifically for tourism-related expenditures. The law does allow for the construction of highways, roads, bridges and utilities, but they must be constructed for the purpose of providing access to tourist destinations or for supporting a tourism-related facility. Water and sewer infrastructure are also allowed, but only to serve additional demand generated by tourists. State accommodations tax focuses mostly on tourism advertising and promotion; construction, maintenance and operations of tourism-related facilities; and other tourism facilities or services that provide for tourists. Local accommodations tax and hospitality tax have similar tourism-related restrictions. Half of the local accommodations tax is for tourism-related capital projects. (The other half is for tourism-related operating expenses such as police, fire and sanitation costs the city incurs due to the number of tourists in our city at any time.) The city has been putting aside funds from all three of these sources for the Low Battery because it qualifies as a tourist destination, not as a drainage infrastructure project. Given that the proposed legislation to allow hospitality funds to be spent on tourism-related drainage improvements did not pass this year, we will continue to use these funds on the critical Low Battery project and other qualified tourism-related projects and costs with City Council's approval. We certainly would like the flexibility to spend some of these funds on drainage projects that meet the tourism-related restrictions in the future. Thanks to Sen. Marlon Kimpson and Reps. William Cogswell and Leon Stavrinakis for their support on this measure. We hope our proposed changes will pass next year.
S.C. Rural Infrastructure Grant and Loan Fund — Despite the name, funding is available to cities as well. We are applying for funding for a portion of Church Creek basin improvements.
Federal Tiger Grant — A $10 million federal Department of Transportation grant that funded the first phase of the Septima Clark/Fishburne project.
FEMA Hazard Mitigation Grant — The city received a grant award of $11 million this year to purchase repetitive loss properties and we anticipate reapplying for this grant each year into the future as needed.
Federal funding for Army Corps of Engineers — With the help of the city and our federal representatives Sens. Lindsey Graham and Tim Scott, and Reps. Mark Sanford and James Clyburn, the Corps was recently awarded $3 million to help develop and validate the engineering of projects to address drainage here in Charleston. This grant is critically important as it sets the stage for federal funding of the projects to come.
Charleston Water System — The city requested and Charleston Water System kindly agreed to help fund the placement of check valves at major drainage outfalls to prevent tidal and storm flow into the stormwater system which often carries over into CWS systems as well.
S.C. DOT and the federal government provided $12.5 million for the Septima Clark Parkway/Fishburne drainage project and are being asked to provide various rights of ways and easements for projects, saving the city money on property acquisition.
Bloomberg Philanthropies — Bloomberg awarded the city a Mayors Challenge grant of $100,000 and we are competitive for an additional $1 million to $5 million for a state-of-the-art monitoring and notification system.
The pursuit of all these funding sources takes a dedicated staff and diligent efforts. I commend the hard work of our city staff and City Council as we bring focus and efforts to the existential challenge of drainage and living with water for the Charleston community. Funding the projects and strategies is a complicated puzzle, one that the city takes with the utmost seriousness and dedication.
John Tecklenburg is mayor of Charleston.