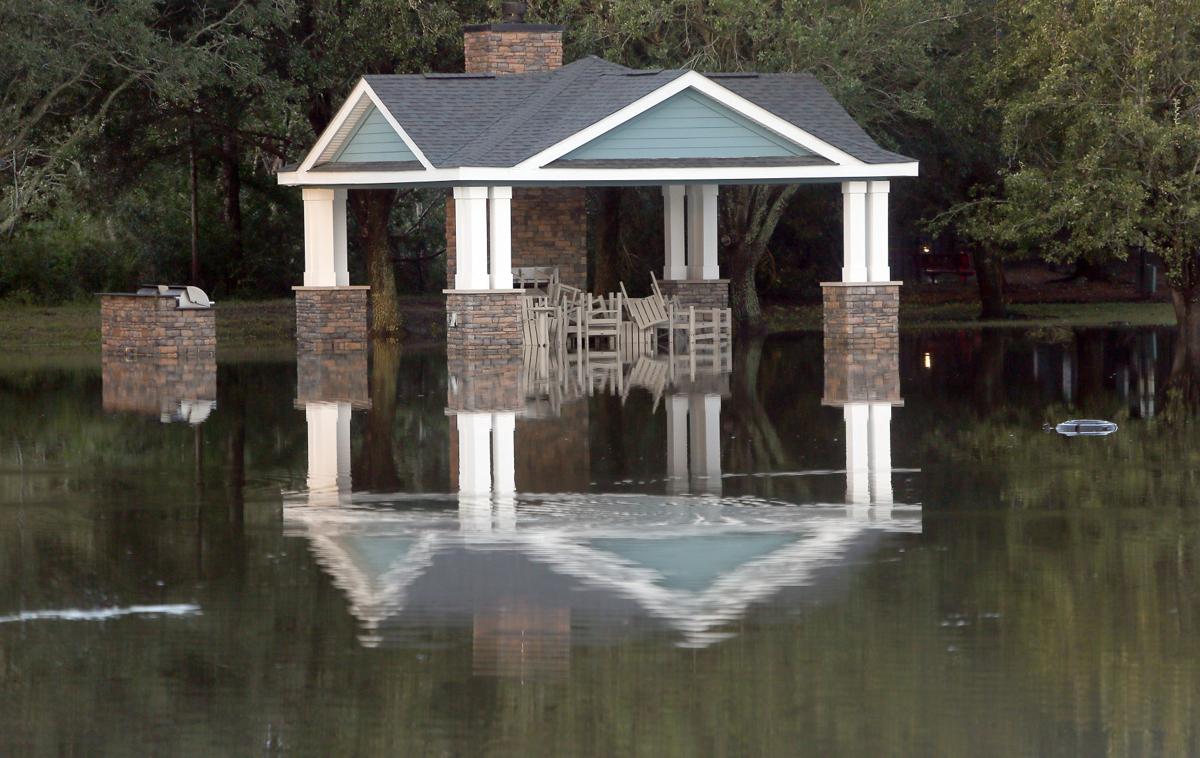 About 50 years ago, the city began expanding, transforming rural areas into dense suburbs without a full understanding of the ways tidal floods and rainfall collide in such a flat area. Draining excess water here can be a slow process, so the floodplains naturally serve as waiting rooms for water on its way out.
Floodplains cover about 70 percent of the Charleston region's landscape. As more subdivisions, shopping centers and roads spread into West Ashley, James Island and now Johns Island, many buildings and homes stand where the flood waters once did.
But it's not just rooftops and pavement taking up the space. To fend off the flood risk, many developers engineer the land to lift it out of the floodplain. On Johns Island, now the city's fastest growing area, subdivision developers are clearing out swampy forests, scraping off topsoil and layering on dirt by the truckloads. Hundreds of acres end up a couple feet higher than they used to be, and a storm or two later, water shows up somewhere it never seemed to go before.
Gary Leonard lives in Hickory Farms in West Ashley, where his property has flooded three times in the past four years. He understands Charleston was dealt bad luck with the 1,000-year flood in 2015, then Hurricane Matthew the year after that, then Tropical Storm Irma in the fall. But he's convinced recent development practices have something to do with it, too.
"There's been a tremendous amount of dirt that they've brought in and filled in all these areas around us, and that's sent water directly to us," he said. "Hurricane Floyd produced a tremendous amount of water. That was a heavy water-producer storm, and we didn't have anywhere near the amount of water we saw with the 2015 and 2016 floods."
Whether development patterns are to blame or not, the consequences are adding up.
Last year, all municipalities in Charleston County reported a combined 354 properties that had been damaged over and over again by flooding. After Tropical Storm Irma's damages were tallied at the end of February, the city alone had reached 754 repetitively damaged properties.
Urban life and rising waters were bound to be at odds eventually in the rapidly growing Lowcountry.
Yet there are ways communities can control building methods in floodplains, to not only keep properties above water, but to make sure they don't excessively manipulate the environment.
When homes are built in the 100-year floodplain, areas deemed to have at least a 1 percent chance of flooding in a given year, they have to be elevated above the level where the Federal Emergency Management Agency expects water to rise. Developers have two options: build them on columns, which is the costlier but more protective method, or fill up the land with dirt to be able to build slab-on-grade homes.
Not only do homes on columns tend to fare better during hurricanes, on a large scale, research shows excessive fill can eventually limit the floodplain's capacity to do its natural job of storing water, causing more flooding in areas that haven't been filled in. While not required, FEMA, the S.C. Department of Natural Resources, and the Association of Floodplain Managers strongly recommend that coastal communities at least establish clear rules and require developers to get a specific permit before using fill.
Those types of measures are in place in Charleston County, Beaufort County and Surfside Beach, as well as in Chatham County, Ga., home to Savannah. Most tend to require developers to prove with engineering reports that their fill won't change the floodplain's storage capacity or slope water into nearby properties.
The city of Charleston never adopted those measures as part of its flood damage prevention ordinance. It does limit fill dirt in the highest-risk flood zones, but that's a minimum FEMA standard and only covers a small sliver of properties along the water's edge.
City leaders involved in the development review process have said over the past few months that the city doesn't have specific fill regulations for the entire 100-year floodplain. When provided with FEMA, state and county guidelines about the issue last week, Public Service Director Laura Cabiness said it is considered when staff reviews project plans.
She defended the city's approach, arguing not all floodplains would be impacted by fill, so there's no need to regulate it in a uniform way. She said discouraging fill across floodplains would restrict the city's growth.
"If you're asking me if we're going to stop filling in the floodplain … that may have unintended consequences when you're looking at 70 percent of the city and what's available to develop for people to live," she said.
Daniel Island wouldn't be a community if it hadn't been filled up, she said.
"I'm not aware of problems on Daniel Island," she said.
Without more specific requirements, residents have to trust that the city is checking developers' homework, and that officials are keeping track of how much floodplain capacity can be removed over time.
At some point, City Council could adopt stricter language, as recommended by the West Ashley Master Plan that was adopted earlier this year, and the Sea Level Rise Strategy, which is being updated now.
Learning curve
Chatham County had an ordinance on the books that prohibited fill outright in the 100-year floodplain when Michael Blakely started as the county's floodplain manager three years ago. He soon found out it wasn't being enforced, which he thought might raise an issue with Georgia officials who make sure communities comply with the floodplain rules they've set.
He was told to start enforcing it, which caused an uproar in the development community. There weren't many large-scale projects planned in flood-prone areas at the time, but homebuilders were concerned it set a bad precedent, and could end up hurting individual property owners the most.
Kevin Winders was one of those property owners. He lives with his family in an upscale gated community east of Savannah called Dutch Island, which is technically more like a peninsula surrounded by three rivers. He bought a vacant lot on the marsh in 2009 as an investment property.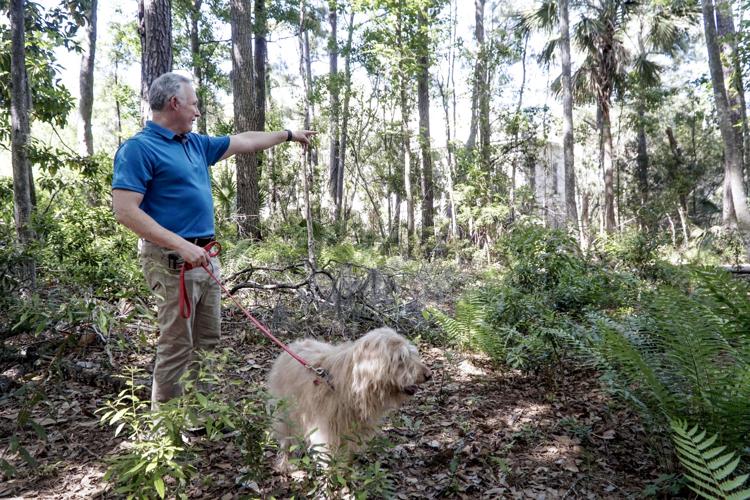 In early 2016, he was in the car with his wife on the way to close on its sale when he got a call from the buyer's agent, who said his client was no longer interested because the county wasn't going to allow any fill dirt on it. He was stunned, because most properties in the neighborhood had already been filled up, including the two next door to his wooded lot.
After the Winders' experience, the county decided to re-evaluate its approach. Now, the county requires builders in the 100-year floodplain to do an engineering study to make sure fill dirt won't raise the flood level more than a foot. If it does, they have to dig out holes on the property so it doesn't lose its overall capacity to hold water.
Winders paid for the engineering report, which cost about $3,500. It showed the dirt wouldn't cause any problems, so he can use fill as needed. He said he probably won't use much anyway.
"I do think the county's got it right now, but it took them a really long time to get it right," he said.
The lot is still on the market for $290,000.
Mark Konter, vice president of the custom home building firm Konter Quality Homes, said subdivision developers in the Savannah area tend to stay on high ground because it's more expensive to build in the flood-prone areas.
"All of our local municipalities in some manner certainly have some measure of their flood damage prevention ordinance that makes building and developing more difficult within the special flood hazard area," he said. "Obviously, it's more expensive to build a house 8 feet off the ground than it is flat, slab-on-grade."
Even in communities with stringent fill policies like Chatham County's, some are questioning whether fill elevations actually put people out of harm's way.
What's to come
In Houston, which was devastated last year by Hurricane Harvey, the city does go beyond standard FEMA requirements and regulates fill in all floodplains, not just the higher-risk zones. After the storm damaged more than 200,000 homes, residents looked into elevation methods and found that most flooded properties were built on fill, according to the Houston Chronicle.
What was also startling was that 38 percent of homes that complied with the regulations in the 100-year floodplain were flooded. The city of Houston required structures to be built a foot above the flood elevation, the same requirement in the city of Charleston. If homes had been elevated just one more foot, 84 percent of the homes would have been spared, according to a city report.
Doug Marcy, Coastal Hazard Specialist with the National Oceanic and Atmospheric Administration, said experts are learning that when it comes to climate change, development patterns will be as much of a determining factor for future damages as severe weather events.
"Eventually, it's going to be a combination of how we've changed the land cover because of development, and whether we get more rainfall, and sea level rise at the coast. That's all going to come into play," he said.
NOAA's Land Cover Atlas is an online mapping tool communities can use to see their development changes over time. In Charleston County, the developed area has increased 18 percent from 1996 to 2010, and impervious surfaces like pavement have increased 20 percent.
"If you change the characteristics of the watershed with more impervious surface, you're going to have a lot more water not being infiltrated," Marcy said.
Man-made drainage systems can help divert water from those urban areas, but only to a certain extent.
"In most cases, we're not even designing stormwater systems for the 100-year event. If the 100-year event is changing over time, then they're going to become more and more inadequate," he said.
After another intense storm flooded the Lowcountry last fall for the third time in as many years, Charleston Mayor John Tecklenburg promised to push drainage issues to the top of the city's priority list.
In his State of the City address in January, he touted that the city had spent more than $32 million on drainage improvements just last year, and that hundreds of millions more would be spent on similar projects already under way.
The city just hired its first full-time floodplain manager, who is working to earn the certification for the job, Cabiness said. In the past, multiple city engineers shared the responsibilities.