Editorial: Fight against Charleston flooding goes nuclear,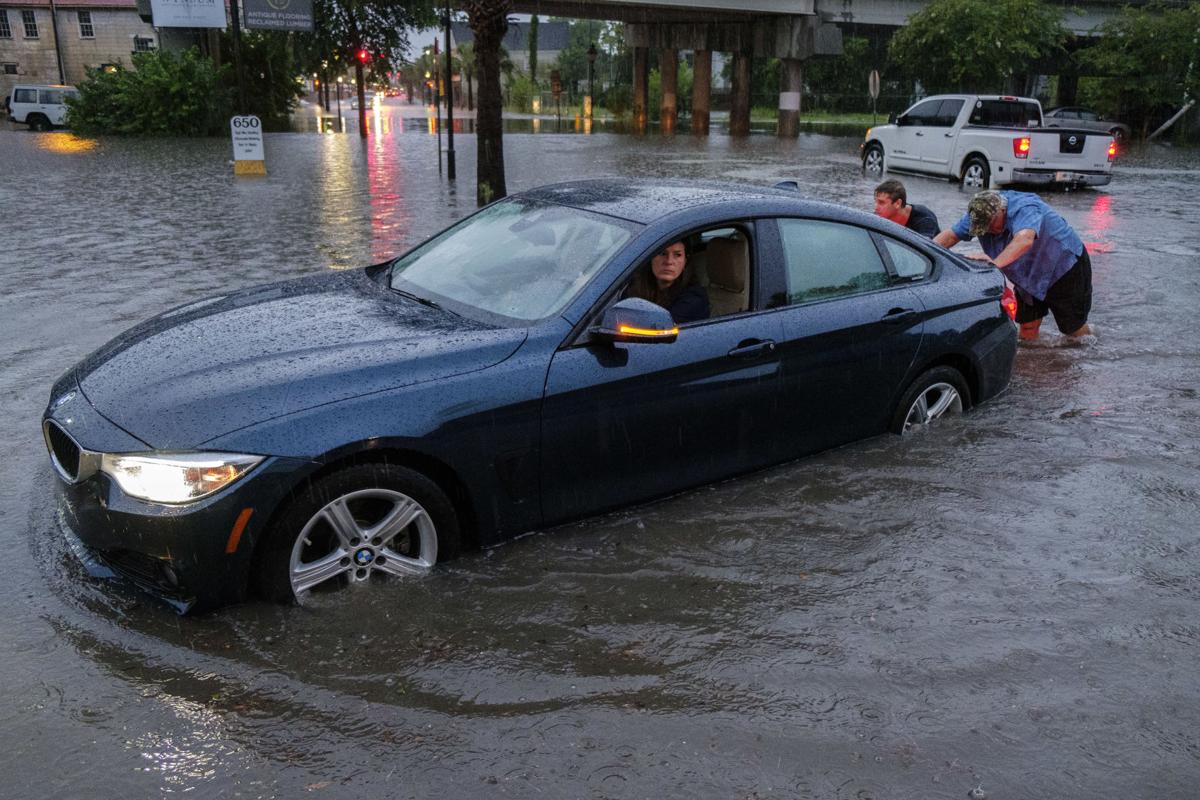 Hundreds of Charleston homeowners have faced devastating floods over the past few years — some as many as four times. Their anger is understandable; their frustration is reasonable.
But the latest volley from a growing grassroots movement demanding more work to mitigate and prevent flooding could have a significant impact on almost all Charleston homeowners, not just those whose homes regularly flood. That kind of scorched earth tactic is counterproductive.
Charleston officials have for decades been disappointingly slow to respond to what appears to be an increasingly frequent and severe pattern of flooding disasters. The situation demands a serious, urgent response. Nevertheless, residents would do well to keep up the pressure rather than go nuclear.
On Monday, three Charleston residents sent a letter to state and federal agencies alleging that city officials have ignored or otherwise undermined standards designed to keep homes from flooding and protect the solvency of the National Flood Insurance Program.
The letter lays out three examples of what its authors say are instances in which city officials have failed either willfully or by neglect to fulfill their obligations to protect homeowners from floodwaters.
In downtown, for example, infrastructure needs updating. On James Island, at least one neighborhood got a variance for flood standards after homes had already been built. On Johns Island, typical development patterns strip the land of its natural flood defenses.
Each criticism is well documented. Each is worth the city's utmost attention. The letter's authors have done a tremendous public service in conducting such detailed research.
But the letter could also conceivably result in a downgrade of the city's Federal Emergency Management Agency rating, and that could cost homeowners as much as $200 per year in higher flood insurance premiums.
"That's the cost of having people in government like Mayor [John] Tecklenburg," said Phil Dustan, an ecologist and College of Charleston professor, and one of the letter's co-authors, who lives on Johns Island. "I would apologize if people's rates go up, but the city has brought that on."
Mr. Tecklenburg hardly deserves the entirety of the blame, however. The problems on the peninsula are more than a century in the making. The debacle on James Island dates back to the 1980s. Only the ongoing development on Johns Island has anything to do with the current city administration.
"We're taking and slaughtering nature so we can build houses," said Mr. Dustan. "The sea islands are not some place that should be heavily developable."
He's right.
The problem is, it takes a lot of documentation to pass new rules without getting them overturned in court. Studies have to be completed first — several of which are underway — and a comprehensive update to the city's stormwater rules is expected next year.
That's not a satisfactory answer for people whose homes have already flooded once a year for the past four years. Nor should it be. Flooding has been a recognized problem in Charleston for decades. And climate change will almost certainly make things worse.
City spokesman Jack O'Toole also pointed out that a lot of the criticism the city has received recently — particularly on social media — is about water in a yard, not the kind of flooding that triggers an insurance claim.
There is a difference, of course, but a puddle today could be a much more serious problem tomorrow.
"For more than 300 years, Charleston flooding and drainage policy basically just assumed that the city would experience significant flooding once every generation or two during major flood events, such as hurricanes," said Mr. O'Toole. "Today, however, with rising seas, subsiding land and ever-more frequent episodes of extreme weather, that standard is simply no longer acceptable."
Mr. O'Toole also pointed out that three new full-time staff members have been hired in the past year to tackle flooding-related issues. Some $60 million has been spent on flooding-related infrastructure and maintenance in the past two years.
In other words, work is being done. It's frustratingly slow, and perhaps not enough, but work is being done. Flooding is a very complex, very challenging problem that's going to take lots of money and lots of work and intense cooperation between city, county, state and federal officials over a long time to fix.
Of course, people should still be upset about this. The amount of research, outreach and activism on flooding at the grassroots level in Charleston is impressive and welcome. We encourage more people to get engaged in local government and push for change. But we should also keep in mind that we need to change policy, not punish our neighbors.