After floods swamp neighborhoods, no hope in sight for these North Charleston residents
Warped and waterlogged floorboards buckled under Cathy Jefferson's feet inside her North Charleston home, which flooded once again last week. 
The familiar and palpable stench of mold filled her home after Friday's downpour brought 8 inches of rain. Her fridge was ruined. Drenched family photographs, taken during the 1960s, were set out to dry. 
Jefferson and her husband bought this house in Union Heights 10 years ago, and while the street outside often flooded, their home stayed dry up until three years ago. The increasingly frequent flooding prompted the couple to purchase flood insurance. The Red Cross gave them money to stay in a hotel this week.
Flooding is an act of God, Jefferson said, but she can't help but feel helpless and angry.
"Are they keeping the drainages clean? Why aren't they building ditches?" she said. "For it to come into the house, that's the after effect that I'm getting."
The neighborhood of modest homes never had much drainage infrastructure to begin with, and unfortunately for residents like Jefferson, it's unclear when the city will start studying what can be done to keep future floods at bay.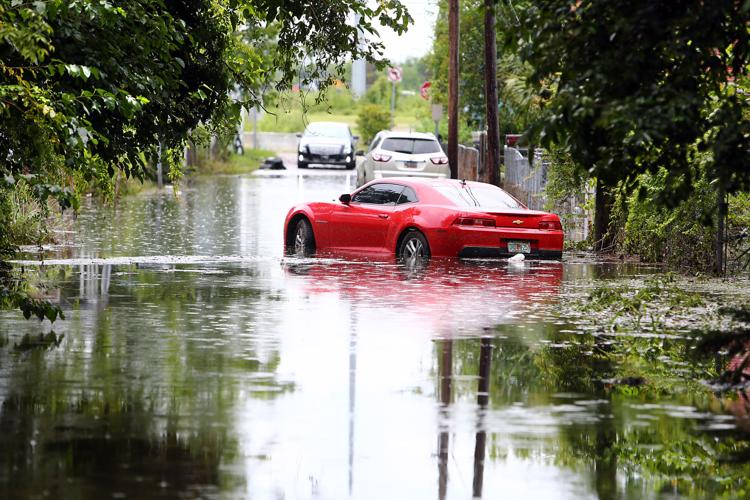 A longstanding problem
Union Heights, Howard Heights and Windsor Place are a few of the neighborhoods in the low-lying Neck Area situated just north of the Charleston peninsula and slightly southwest of the old Navy base. These are older, predominately African-American neighborhoods with homes that date back to the days of segregation.
Like many older neighborhoods in the Lowcountry, these were built without a true drainage system. Water was expected to flow off into nearby rivers or get absorbed into the ground, but as industrial development replaced green space with concrete, water often sits on the ground for days before it can drain into the nearest established drainage system.
For residents in the Neck, the closest systems are two sets of underground pipes that move water either east toward the Cooper River via Spruill Avenue or west toward the Ashley River via the King Street extension, according to Mike Dalrymple, the city of North Charleston's assistant director of Public Works.
It's unclear when the city might try to improve things: The flooding here will not be studied by the city until plans for the new railyard shipping container port are finalized, Mayor Keith Summey said.
"Until there is a final layout of what exactly is going to be done (at the railyard site)," Summey said, "it's an incomplete study."
Summey, who grew up in the Chicora-Cherokee neighborhood, said flooding has been an issue in this area since at least the 1960s.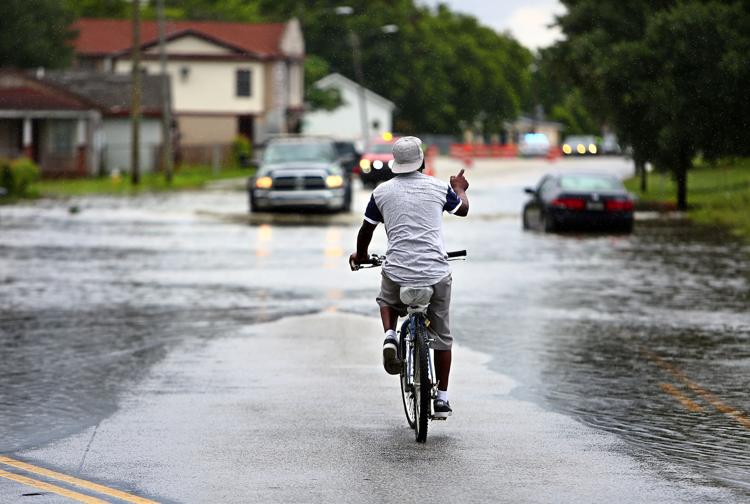 'It's not working'
Several longtime residents described how Friday's flash flood inundated their lives. Many claimed the flooding has worsened significantly in recent years, which have brought a record rainfall and brushes from two tropical storms.
One woman bemoaned the loss of lush forests, which have been replaced by Interstate 26.
Randy Langford, a Union Heights resident of 60 years, said the flooding was the worst he had ever seen, and he has seen flooding before.
He pointed toward the intersection of Forest Avenue and Cosmopolitan Street and reminisced about how heavy rains once turned the intersection into a neighborhood swimming pool, deep enough for young children to play in.
Betty Murphy has lived in Union Heights since the 1950s and spoke about what she saw as a lack of city investment in the area. The city had installed drains, but she never sees any crews come out to clear debris or fix issues with them.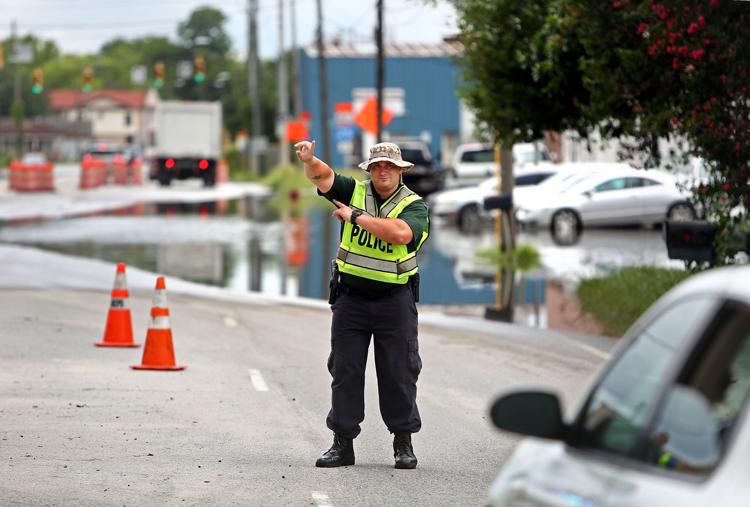 "We're paying (tax) dollars, but it's not working," Murphy said.
By 6 a.m. Friday, Spruill Avenue had become a bowl of rising flood water. Thousands of southbound commuters were redirected through the narrow streets of Union Heights and back north.
These drivers, many of whom pass by the neighborhoods on a daily basis and rarely see the homes inside, came face to face with the reality faced by the residents each time it floods.
Every other street was severely flooded. Some, like Little and Echo avenues, were impassable. And they would remain that way until Saturday or later.
Wanted: equal treatment
The city has recently paid for new studies of drainage in the Pepperhill neighborhood farther north, as well as the area around Filbin Creek, which drains water from Oak Terrace Preserve and parts of Park Circle. No study in the Neck Area is in the works.
Some residents feel strongly that racial discrimination is at play in the city's handling of their area's flooding issues. Michael Brown, their councilman, disagreed.
He said he did not find the neglect of his neighborhoods to be based in racism, but he does hope his colleagues on City Council soon will address residents' concerns by considering a new study of the flooding issues.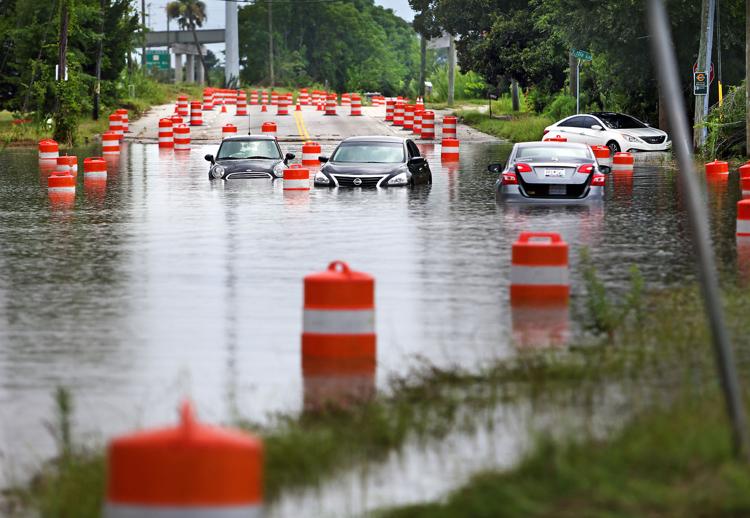 "It's something that needs to be evaluated," Brown said. "You want things to be equal when it comes to quality-of-life issues."
He noted several low-lying spots on certain streets that always flood somewhat, such as Forest and Cosmopolitan. Others include Echo Avenue and Baxter and Norwood streets in the Chicora-Cherokee neighborhood.
On Hackemann Avenue in Windsor, Tyrell Johnson's driveway was blocked by the rising floodwaters. His mother was schedule to get to work that morning, but she would not be able to get her car out of the driveway until 2 p.m.
Johnson and his two younger brothers, Jacory, 6, and Jatavno, 5, had plans to go see the new Avengers movie. But they, too, were trapped inside their house.
Meanwhile, Cathy Jefferson is left to wonder when the next flood will arrive and whether her feeling of helplessness will return with it. She fears nearby freeway construction will only make things worse.
"Just like we have killings in Charleston, this is almost just like a killing to me," she said. "It's your emotional feelings just totally broken into pieces."
Gregory Yee contributed to this report.