Paris on flooding alert as rising Seine causes travel disruption
Part of the Louvre museum is closed as the river is forecast to reach 6.1 metres by Saturday – three times its normal height
Parisians have been warned to stay away from the river Seine as it continues to rise, flooding surrounding roads and causing disruption to the city's transport network.
As water levels touched 5.2 metres on Wednesday, the capital's authorities said the river was expected to reach 6.1 metres (20ft) by Saturday.
The river last reached that level, which is 4m higher than its normal height, during the June 2016 flooding when several monuments, including the Louvre museum, were closed as a result.
Quayside roads and tunnels have been closed and all river traffic, including cruise boats and water taxis, halted as vessels are unable to pass under the bridges.
Houseboat residents have been advised to move out and Michel Delpuech, the head of the city police, told residents to take extreme care near the water.
Parisians were also warned they were more likely to come across members of the city's rat population after the rising water swamped the rodents' dens and forced them to seek drier shelters.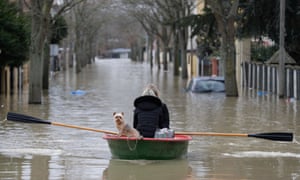 On Wednesday morning, a central section of the RER C urban rail line was shut down, closing several stations, including Saint-Michel Notre-Dame, Musée d'Orsay, and Champ de Mars near the Eiffel Tower.
The rail operator, SNCF, said it halted services after closing ventilation shafts to prevent further flooding of tunnels, where staff have been pumping out water.
With the city on orange alert, the second highest flood warning level, the mayor, Anne Hidalgo, called a crisis meeting with police chiefs. Officials said the situation was serious but not catastrophic.
Part of the Louvre museum, which sits on the bank of the Seine, was closed as works of art were moved to higher ground. The Musee d'Orsay and the Orangerie were also preparing for flooding risks, cancelling their weekly evening opening on Thursday in case works need to be moved.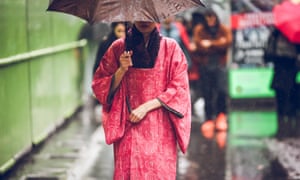 The river overflowed earlier this week because of flood water from upstream where the basin that feeds the Seine has received twice as much rain as normal.
Paris suffered the "flood of the century" in 1910 when the Seine reached 8.62 metres. It has been preparing for a similar event for several years.
"It's not a question of if there will be a flood, but when," Colombe Brossel, the mayor's assistant, said in 2016.
Twenty-three French departments are on high flooding alert, from the Alps in eastern France to Normandy in the west.
• This article was amended on 24 January 2018. Because of an editing error, an earlier version switched the locations of the Alps and Normandy with each other.